Water Damage Restoration Tips
Water damage may be an unfortunate incident for Sydney homes or property. Whether the cause is heavy rains, broken pipes, or a plumbing error; addressing them is very important to minimise any damage and avoid potential health hazards. We will describe the necessary procedures you should take promptly when water damage happens in your Sydney house. With these water damage restoration tips given in this blog, you can reduce the impact of water damage. As well as you will be capable of speeding up the repair process by following these tips on flood/water damage repair.
What is Water Damage and Why Should You Act Quickly?
Water damage is a serious problem and you need to act quickly to save expenses. Flood or water damage may leave possibly long-lasting effects on your house or place of business.
It may be brought on by a number of problems, such as flooding or burst pipes, so it's important to be proactive in stopping it before it starts.
When you ignore the water damage warning signals, you can face major issues including structural damage, mould growth, and even health risks. 
It may also be caused by a number of things, such as plumbing problems, leaking pipes, and floods.
The key to preventing potentially expensive water damage to your property is good upkeep and prompt repairs.
Acting soon when you see any indications of water damage is essential to preventing it. By doing this, you can reduce the damage's severity and save future, expensive repairs from becoming necessary. This further information will define water damage restoration tips.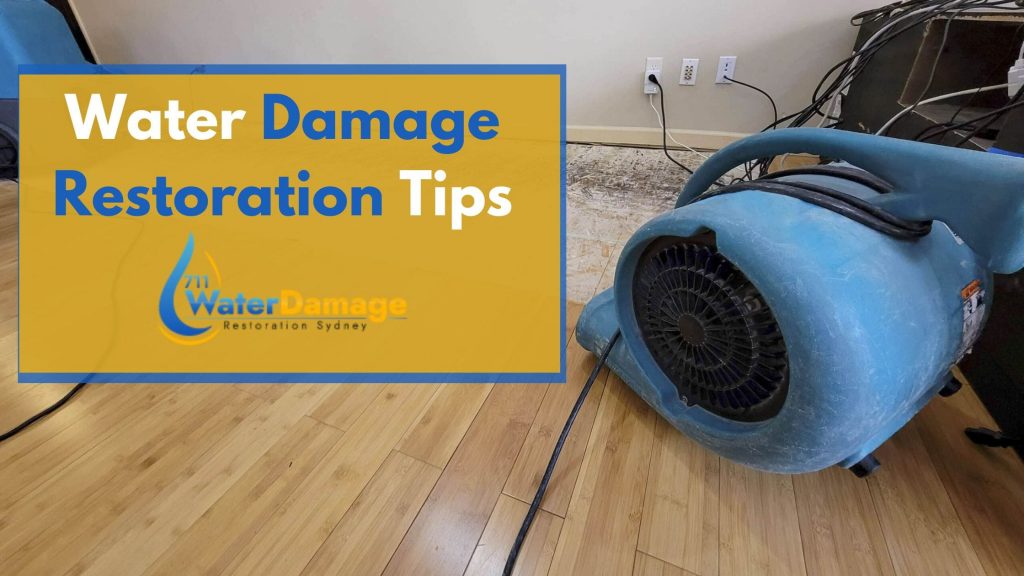 10 Steps To Take After Water Damage In Your Sydney Home
There could be several actions that you can immediately take after dealing with the flood. But the following 10 tips will guide you to stop and prevent the water damage effects.
1. Ensure Safety
Always arrange things according to your own safety before venturing into the flooded area or place. To work on emergency water damage and to avoid electric shock, turn off the power. Be wary of slick surfaces and any structural damage caused by water. When working with polluted water, use adequate personal protection equipment, such as gloves and boots.
2. Stop the Water Source
If the water damage is the result of a burst pipe or a plumbing problem, find and turn off the main water supply valve. This action will help in the prevention of additional water entry and the reduction of damage.
3. Document the Damage
Prepare the documents in the water damage response by using a camera or a video camera. This paperwork or recording can show the amount of damage and will be essential for insurance claims. Take note of the damaged things as well as the room's general condition.
4. Remove Standing Water
If the water level is manageable, remove any standing water with buckets, mops, or a wet/dry vacuum. Make sure that you work on flood water extraction as soon as; you can stop it from seeping into the building materials and causing more harm. Take care to avoid spreading the water to unaffected regions.
5. Dry Out the Space
Open windows and turn on fans to enhance air circulation to start the drying process. Dehumidifiers can also help in reducing the air's excessive moisture content. Or, you can hire a professional flood damage restoration company to work on it. Experts will do water damage cleanup if the situation is out of control or if water has seeped into the walls or the floors. They have specialised equipment, such as air movers and dehumidifiers of industrial calibre, to efficiently dry up the area.
6. Remove Wet Items From the Flood-Affected Area
In the water damage response, you should also remove the furniture, carpets, and other wet goods, along with any personal possessions from the flooded area. To avoid additional harm and to let them air dry, move them to a dry spot. You need to handle all household stuff and things that are soaked and require caution. Because they may be weighty with flood water and harbour mould development. Also, get advice on potential salvage alternatives from a water damage restoration specialist if you have precious things that are seriously damaged.
7. Disinfect and Prevent Mold Growth
Water damage can enable the formation of mould, which can have negative health effects. Utilising the proper antimicrobial cleaners, thoroughly clean and disinfect all surfaces, including furniture, walls, floors, and carpets. Also, need to pay particular attention to places where moisture might gather that are obscured or difficult to access. To stop further mould development, think about applying a mould inhibitor or hiring flood mould remediation.
8. Contact Your Insurance Provider
As soon as you can, let your insurance company know about the water damage occurrence and get experts for emergency water damage repair. They will help you with the claim procedure and could suggest a reliable restoration company in your neighbourhood. Give them the documents and proof you've already gathered of the harm.
9. Consult a Professional Restoration Company
It is advised to obtain help and hire a reputable water damage restoration company in Sydney for serious water damage situations. Or, if you want to get the proper or professional water damage clean up. These professionals are equipped, skilled, and experienced enough to manage the restoration procedure successfully. They can determine the level of the damage and use specialised methods to repair your house to its pre-damaged state.
10. Prevent Future Water Damage
Once the immediate water damage has been repaired, take precautions to stop similar occurrences in the future. Check your gutters, roof, and plumbing often for any indications of damage or leaks. To prevent moisture buildup, make sure your insulation and ventilation are adequate or safe. To warn you of potential leaks in the future, think about installing water detection equipment or an automated shut-off system.
Conclusion: Water Damage Restoration Tips
Well, you know very well how to respond and use the water damage restoration tips in order to prevent further damage and avert long-term effects. You can speed up the water damage restoration and drying process and return your home to its pre-damaged condition. You can save lots of money by taking these immediate actions after water damage occurs, including making sure everyone is safe. To ensure thorough restoration and coverage, keep in mind that it is compulsory to consult with professionals & your insurance company.